Northwest: 35 Best Campgrounds
For some RV travel is exclusive to the warm summer months, however the Pacific Northwest offers beautiful places to visit year round (as long as you don't mind a little rain).
We came across this article in Sunset Magazine and wanted to share it with you all in hope that it inspires you to get outside and enjoy a little adventure!
Greg Probst / Corbis
Our favorite campgrounds in Oregon, Washington, Idaho, and Canada – SUNSET EDITORS
Washington camping
1. Cape Disappointment State Park, Southwest of Ilwaco
The campground launches you into 1,880 pristine acres at the end of the Long Beach Peninsula. Wander 27 miles of beach, or go clamming or fishing. Sites 104 and 105 have great beach access. $30; 360/902-8844; book at parks.wa.gov/reserve.asp
2. Lone Fir Campground, Okanogan National Forest, Northwest of Winthrop
A wooded spot along Early Winters Creek offers a cool base for exploring the northern Methow Valley. On hot days, head to the swimming beach at Pearrygin Lake State Park, near Winthrop. $12; no reservations; 509/996-4003.
3. White River Campground, Mt. Rainier National Park
Keep an eye out for mountain goats near this campground (accessed from the White River entrance) on Mt. Rainier. For wildflowers, hike 3 miles to Glacier Basin or 4.2 miles up, up, up to Summerland via the Wonderland Trail. $12 (plus $25 park entrance fee per vehicle); no reservations; 360/569-2211.
4. Curlew Lake State Park, Northeast of Republic
This 5.5-mile-long lake in the state's northeastern corner is famous for its trout fishing and swimming. Bring your passport and take a day trip to the historic mining and railroad town of Grand Forks, British Columbia, 27 miles north. $from 20; book online at washington.goingtocamp.com; 360/902-8844.
5. Moran State Park, on Orcas Island in the San Juan Islands
After you summit 2,400-foot Mt. Constitution or conquer the park's bike trails, cool off by Cascade Lake at this shaded campground. Skip the long car-ferry lines and walk on with your gear; the Orcas Island Shuttle ($5 one-way; www.orcasislandshuttle.com) runs all summer long. From $22; 360/902-8844; book at parks.wa.gov/reserve.asp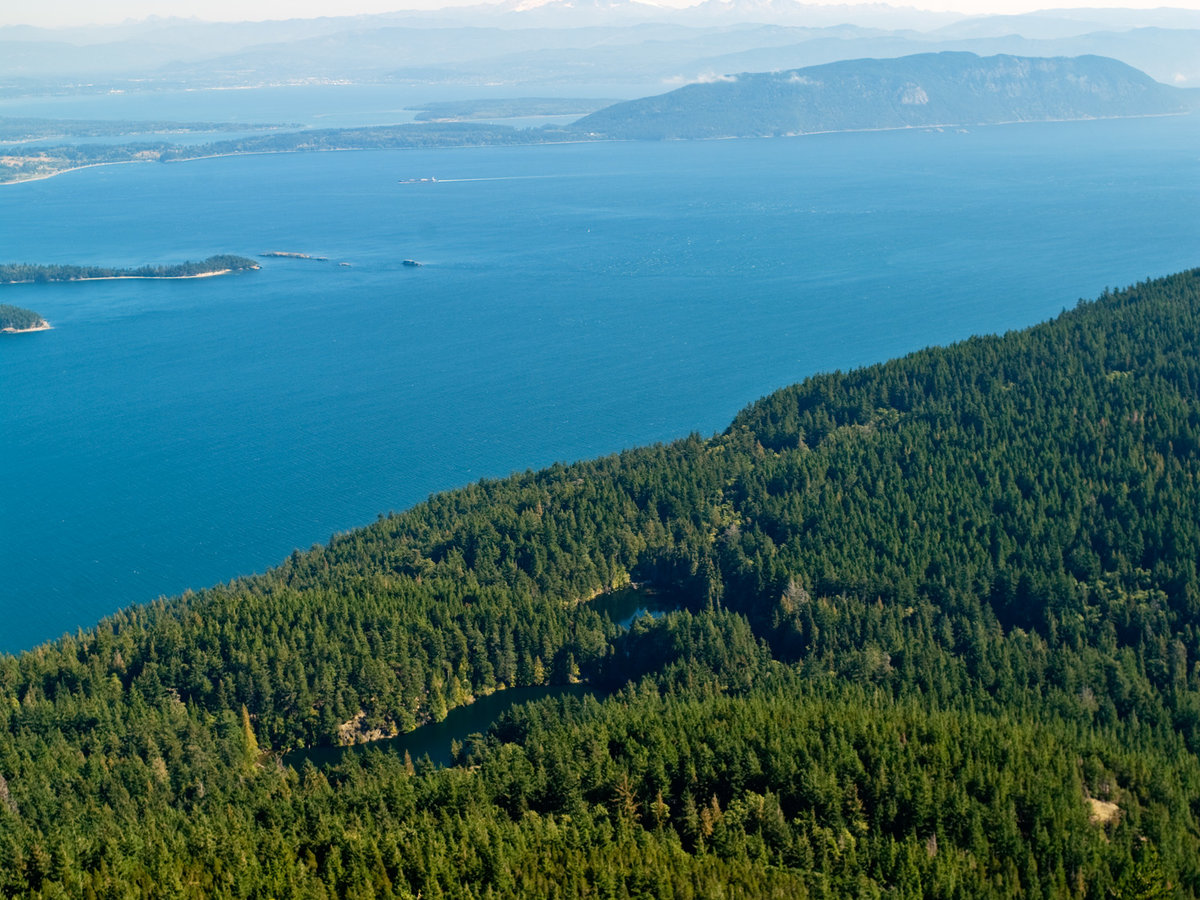 Andrea M. Gómez
The jewel of Washington's state park system, with 5,252 acres of forests, lakes, and waterfalls. The view from Mt. Constitution is world-class and well worth the trek upward.
More: Explore Washington's San Juan Islands
6. Penrose Point State Park, Southwest of Purdy
On the Key Peninsula, Penrose is the best of two worlds ― Northwest forest and Puget Sound beach, with a Frisbee-perfect lawn connecting the two. The group campsite near the playfield and beach can sleep up to 50 people. $20 (from $40 for group site); 360/902-8844; book at parks.state.wa.us (group site: 888/226-7688).
7. Salt Creek Recreation Area, West of Port Angeles
Awe-inspiring views over the Strait of Juan de Fuca and colorful tidepools at Tongue Point Marine Life Sanctuary make this a standout. Choose a spot with a view over the strait―we like site 63. $25; clallam.net or 360/928-3441; book by mail (details on clallam.net).
8. Doe Bay Resort, on Orcas Island in the San Juan Islands
The best spot at the eclectic, 38-acre Doe Bay Resort with its 27 sites on Orcas Island isn't a crunchy cabin, one of the yurts, or a Buckminster Fuller–like dome. It's a simple tent site called Seal Landing: The grassy bluff on the point of Otter Cove has a front seat to sunrise, and it's just steps from the new soaking tubs, a sauna, and a cafe serving organic, locally sourced food, from scallops to foraged nettles. From $110, including spa access; doebay.com
9. Second Beach, Olympic National Park
Hemmed in by rugged headlands and bookended by natural arches with keyhole views, Olympic National Park's broad Second Beach—reachable by a quick 0.7-mile hike—is the coast's crown jewel. Pitch your tent on the sand and unzip to views of seals, bald eagles, and the Quillayute Needles, a half-dozen surf-battered islets. $5, plus $25 park entrance fee and $2/person/night; no potable water; nps.gov/olym
10. Bridge Creek Campground, Leavenworth
On the border of the Enchantment Area Wilderness, Bridge Creek Campground's falling leaves flash from mustard to maroon. www.fs.usda.gov. Make time for the 8-mile round-trip to Colchuck Lake, a turquoise glacial gem set against neon larches and craggy peaks. From $100; Apr-Oct; recreation.gov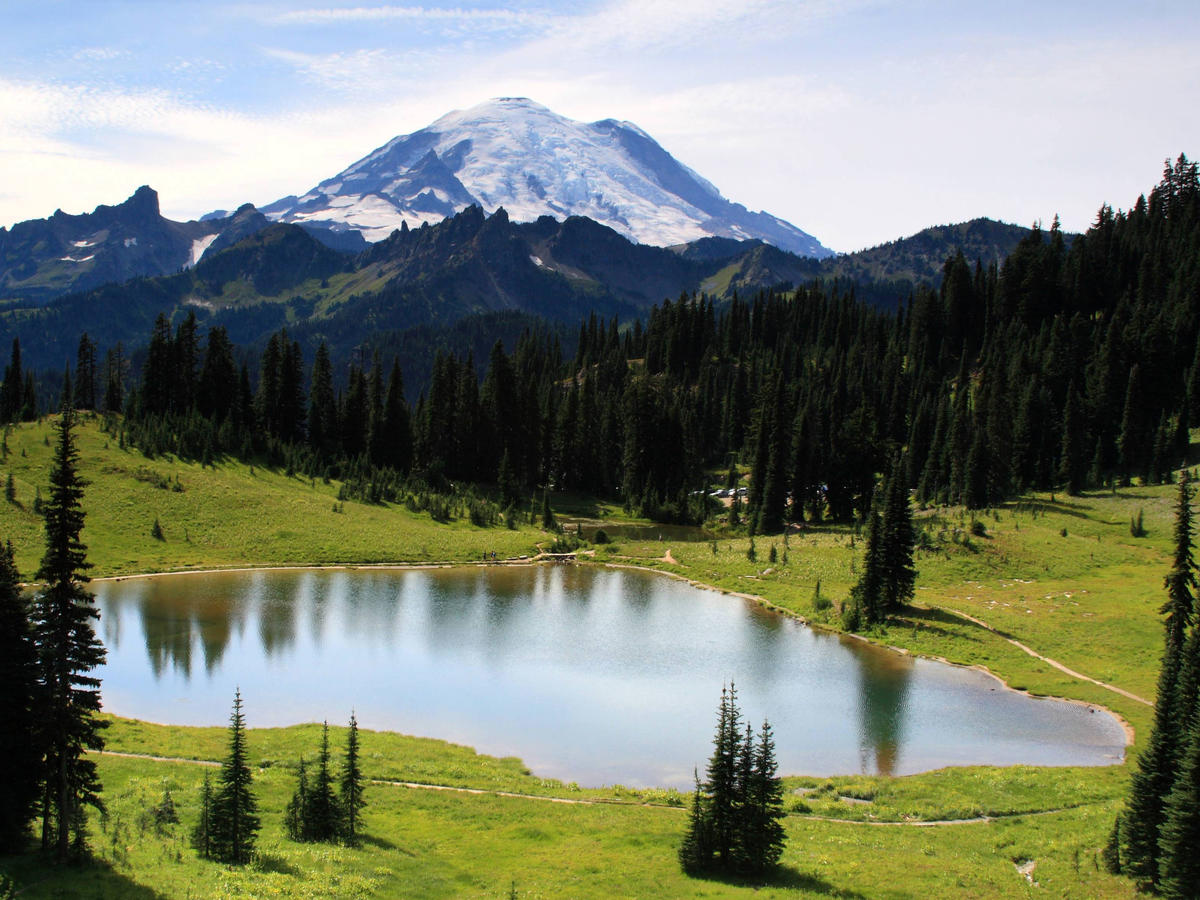 Frank Kovalchek via Flickr Creative Commons
Okay, it's obvious. But that's the point: Rising to 14,410 feet, a mile and change above everything around it, Rainier is the only mountain in the Cascades that locals call "The Mountain."(We know it's a perfect summer day when "The Mountain is out.") The intrepid climb it; the athletic hike the trails that make a necklace around it; everyone else drives up close to its glacial flanks, rolling wildflower fields, and cliffs to soak in the sensation of feeling very, very small. $25/vehicle; nps.gov/mora.
11. Deer Park, Olympic National Park
Get a true backcountry feeling without ditching your car. At the meadowed 14 sites of the highest campground in Olympic (at 5,400 feet), you'll likely be outnumbered by ungulates. The short jaunt up nearby Blue Mountain nets 360° views of jawbone peaks and the Strait of Juan de Fuca. And summer stargazing doesn't get much better. From $15; $25/vehicle; Jun–Sep; no potable water; vault toilets; no reservations; nps.gov/olym
12. Wilderness Camping, Mt. Rainer National Park
It's easier than ever to snag an overnight among the lowland forests and sub-alpine areas along the Wonderland Trail in Mt. Rainer National Park, thanks to a new online reservation system. nps.gov/mora
13. Dash Point Cabins, Federal Way
The 7 heated cabins in Federal Way have been updated with queen-size futons and bunks that sleep three. parks.state.wa.us
14. Deception Pass Cabins, Deception Pass State Park
Popular boat-in site Ben Ure Cabin in Deception Pass State Park has been updated and is now fully furnished with an electric kitchen, bathroom, and outdoor shower. It's also heated and has electricity. parks.state.wa.us
15. Jones Island State Park
Want San Juan Islands beachfront, all to yourself? The two rustic sites on the west side of this 188-acre island are set aside for human- or wind-powered arrivals only, so they're perfectly quiet (except for the bark of sea lions). And the firepit—on a bluff, with logs for benches—is like a box seat for spectacular sunsets. From 12; open year-round (potable water May–Sep); vault toilets; no reservations; parks.state.wa.us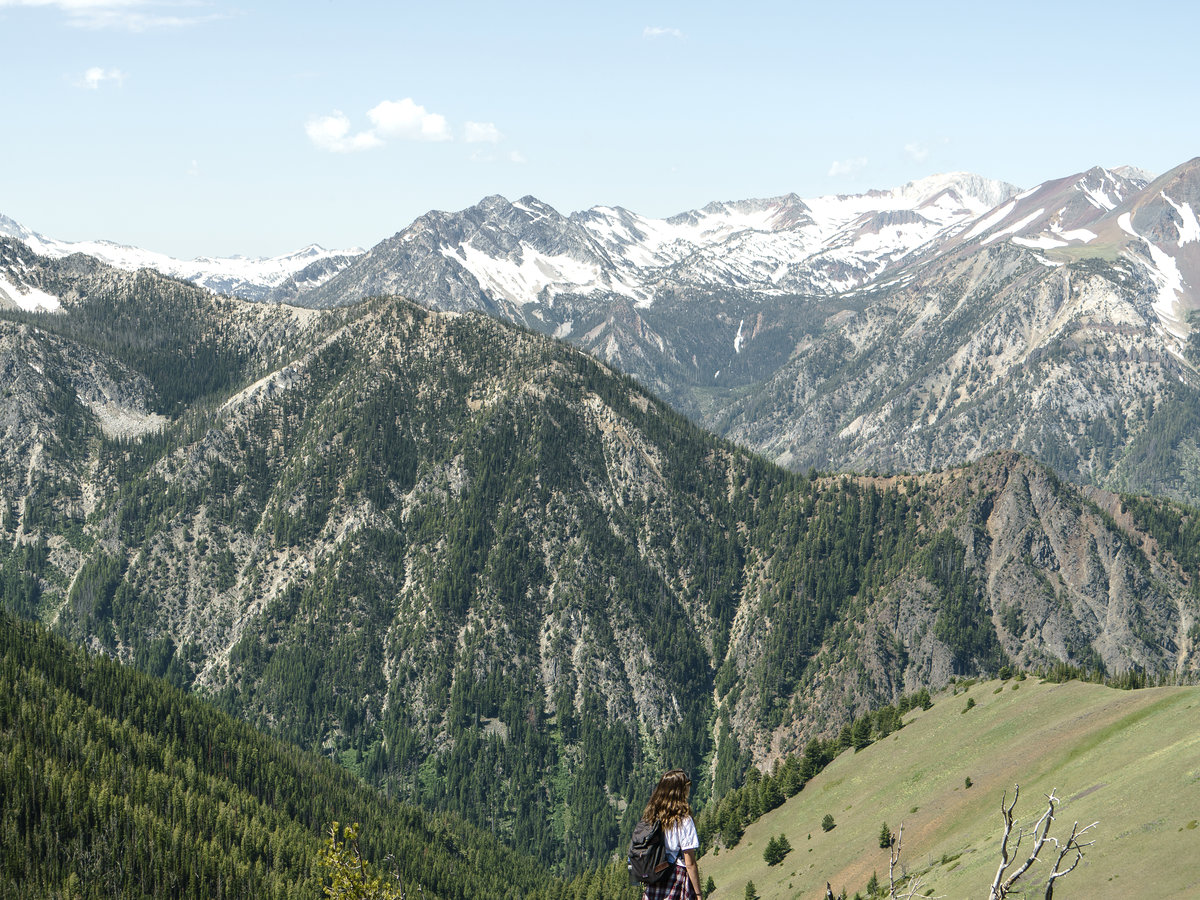 Dave Lauridsen
It's not easy to get the northeastern Oregon town where the Jennings resides, but its surrounding county has so much to offer in views, local spots, and family roots that are experiencing their own revival. Check out our full guide to visiting Wallowa County here.
A steep ride up the Wallowa Lake Tramway brings you to a lookout point on Mt. Howard with views of the Wallowa Mountains and Eagle Cap Wilderness. The mountain is a newly designated National Natural Landmark.
Oregon camping
16. Jessie M. Honeyman Memorial State Park, South of Florence
Feel like a desert explorer on 2 miles of sand dunes that stretch from your campsite to the Pacific. Or cool off in the park's two freshwater lakes. To avoid ATV noise, stay away from H Loop. $21; 541/997-3641; book at reserveamerica.com
17. Wallowa Lake State Park, South of Joseph
Lots to do: swimming, boating, fishing, and a gondola tramway (from $33) that runs to the top of 8,150-foot Mt. Howard. Visit the nearby town of Joseph, famous for its bronze castings. $20; 541/432-4185; book at reserveamerica.com
18. Bull Prairie Campground, Umatilla National Forest, South of Heppner
The ultimate fishing lake abuts this campground in the Blue Mountains. Hang a hammock under ponderosas, cast a line from a dock, or ramble along the 1-mile lake trail. Check out the Morrow County Fair and Oregon Trail Pro Rodeo, 36 miles north in Heppner (Aug; fair $4, rodeo $10; morrowcountyoregon.com). $14; no reservations; 541/676-9187.
19. Oxbow Regional Park, East of Gresham
Just 20 miles east of Portland, this campground in the Sandy River Gorge is the ideal place to swim, kayak, canoe, fish, or explore the park's 1,200 acres of old-growth forest. $22 (plus $5 park entrance fee per vehicle); no reservations, except for group sites (503/797-1850); oregonmetro.gov/parks or 503/663-4708.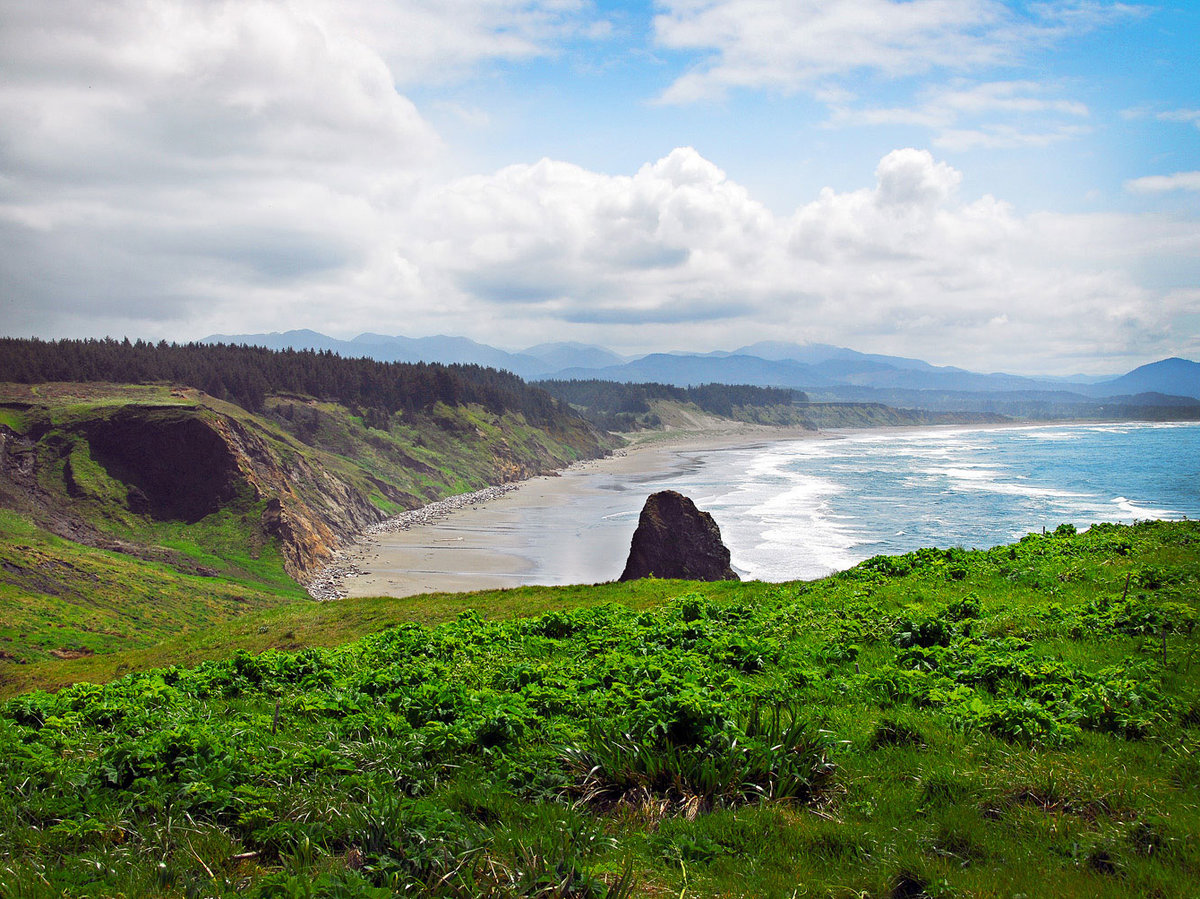 Campsitephotos.comCape Blanco State Park cabins offer gorgeous coastal lookouts
20. Strawberry Campground, Malheur National Forest, South of Prairie City
This tiny gem (11 campsites) is located at 5,700 feet in the Strawberry Mountain Wilderness. Fish at trout-stocked Little Strawberry Lake, a nice 6-mile round-trip from the campground trailhead. $8; no reservations; 541/820-3311.
21. Fall Mountain Lookout, Malheur National Forest
Fire towers were built specifically with windows looking out in every direction. So at cozy Fall Mountain Lookout, a 14- by 14-foot room and catwalk atop a 20-foot scaffold in Malheur National Forest, that means unobstructed gazing at the Strawberry Mountains and the John Day Valley. It's accessible by car and has electricity, a fridge, stove, heater, and lights—and was recently refreshed with a new coat of robin's-egg blue paint. $40; late May–Oct; book at recreation.gov
22. Lost Lake Resort and Campground, Hood River
Watch dawn turn Mt. Hood a glowing pink from the "F" Loop at Lost Lake Resort and Campground—shore sites 1–31 stare the volcano in the face. A fishing license lets you troll for Walter, the rumored 50-pound trout with a beard made of thousands of dollars worth of lures. The 2-mile, 1,400-foot thigh burner up Lost Lake Butte Trail rewards with 180° views of Hood and Mt. Adams. $30 for lakefront sites; late May–Oct; reserve at reserveamerica.com/camping/lost-lake-resort-and-campground
23. Cape Blanco Cabins, Port Orford
At the westernmost point in the state, Cape Blanco State Park's ocean views are wide open. Come morning, trails to the beaches and bluffs are mostly empty, and the line is short to the old lighthouse with its sculptural Fresnel lens. All four cabins have the basics (bare beds with vinyl mattresses, fire rings, covered porches) but Hawk has the best water view. $53; oregonstateparks.org
24. Wallowa Lake State Park, Joseph
Wallowa is a gorgeous mountain lake with lots of things to do along with breathtaking views. Once you've set up camp at this northeastern Oregon lake, you may want to spend a few hours gazing at the sapphire water reflecting the surrounding Wallowa Mountains. After that, you have heaps of choices: hiking, fishing, swimming, a tram ride to the summit of Mt. Howard, and art shopping in nearby Joseph, known as a bronze-casting center. $20 tent, $32 RV/trailer, $55 yurt; open year-round; oregonstateparks.org.
25. The Vintages Trailer Resort, Dayton
These 31 trailers in Dayton on this 14-acre property include glamping amenities like pour-over coffee, robes, hotel-quality linens, pool, hot tub, and cruiser bikes. the-vintages.com
26. Silver Falls State Park, Northeast of Sublimity
A great base for exploring Oregon's largest state park. Don't miss the 7-mile Trail of Ten Falls, a misty trek among waterfalls, ferns, and wildflowers. Take a dip in the swimming area at Silver Creek. $19; 503/873-8681; book at reserveamerica.com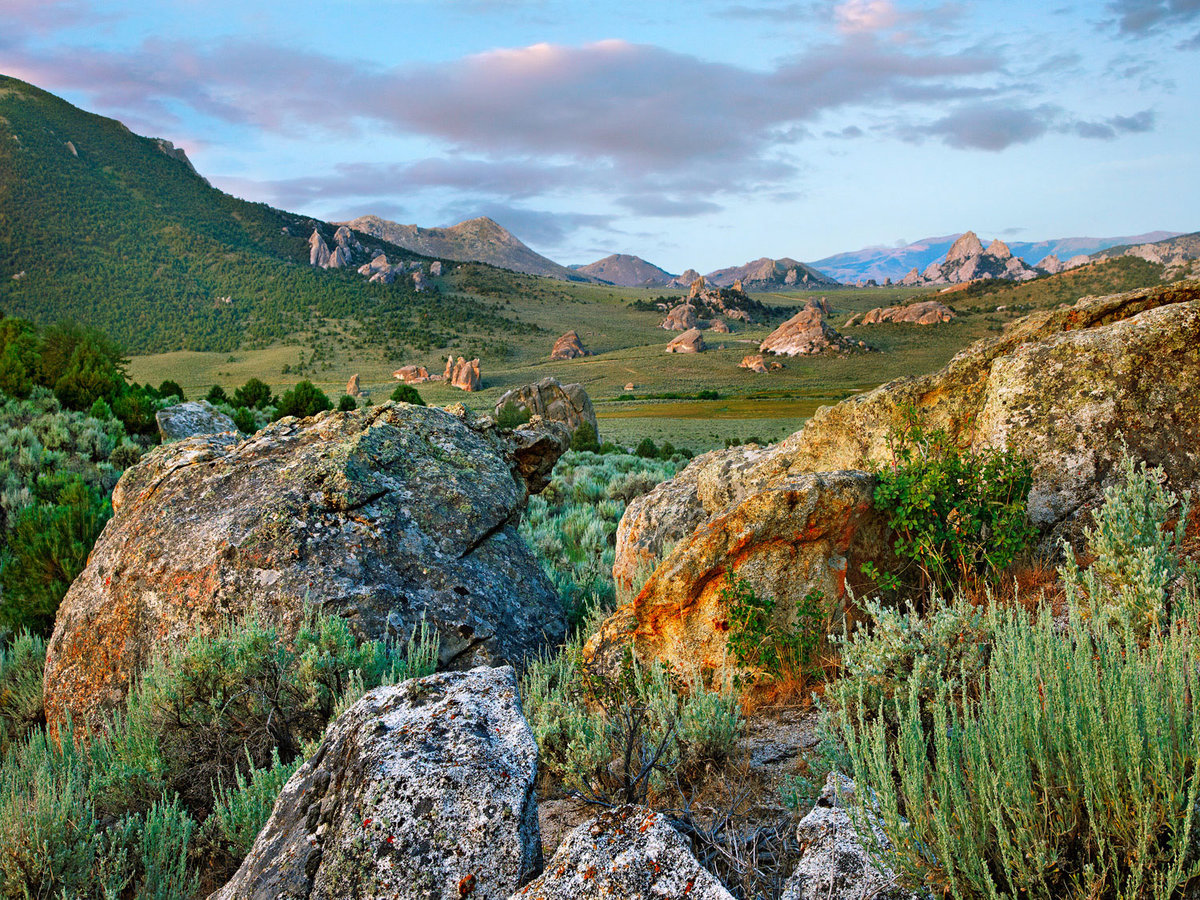 Tim Fitzharris / Radius ImagesIdaho's striking City of Rocks
Idaho camping
27. Hells Gate State Park, Lewiston
Take in Lewis and Clark country from this grassy, shaded campground along the shores of the Snake River. Hike an easy 1.5 miles south to the basalt rocks, a 150-foot-tall ancient lava formation. From $21; 208/799-5015; book at parksandrecreation.idaho.gov
28. City of Rocks National Reserve, Malta
From site 22, near Lookout Rock, you get a sweeping view of the 14,000-acre City of Rocks in southern Idaho. The "city" is hundreds of granite monoliths, some more than 600 feet high, that rise out of a gently rolling sagebrush landscape. Take in a desert sunrise, watch the rock climbers as they spider up the planetary formations, and keep your ears peeled for the song of the reserve's 142 species of birds, including mountain bluebirds and warblers. $12; book at reserveamerica.com
29. Huckleberry Tent and Breakfast, Clark Fork
This upscale canvas tent campground sits in Clark Fork's heavily wooded forest. huckleberrytentandbreakfast.com
30. Dworshak Boat-In Campground, Dworshak State Park
Dworshak State Park has 105 hike-in or boat-in roadless campsites spread out along the 54-mile reservoir. idahostateparks.reserveamerica.com
31. Point Campground, Near Stanley
At Sawtooth National Forest's Point Campground—especially tent sites 11–17—wake early to see the morning light on the striated Sawtooth Range and 9,000-plus-foot Mt. Heyburn and Grand Mogul. Nearby Redfish Lake Lodge serves up civilization with boat rentals and a restaurant with trout and wild game on the menu ($$). $17; late May–mid-Sep; book at recreation.gov
Canada camping
31. China Beach Campground, Juan de Fuca Provincial Park, B.C.
Get a taste of the wild coastline of Vancouver Island at China Beach, situated at the southern end of the Juan de Fuca Trail. From the campground, follow trails to the two beaches for sea otter sightings. $16 U.S. (plus $5 U.S. reservation fee per night); bcparks.ca; book at discovercamping.ca
32. Nairn Falls Provincial Park, North of Whistler, B.C.
Just a half-hour north of Whistler, this campground is a good base for exploring B.C.'s "Sea to Sky" region. Request a campsite overlooking the Green River. $17.75 U.S. (plus $5 U.S. reservation fee per night); bcparks.ca or 604/986-9371; book at discovercamping.caStone123 / PanoramioHike hut to hut on the Sunshine Coast Trail
33.  Sunshine Coast Trail, From Desolation Sound to Saltery Bay, B.C.
You don't have to hike the entire 112-mile Sunshine Coast Trail to stay in one of its 12 huts. Many are easily accessible from nearby logging roads. The most spectacular digs are the winterized (i.e., cozy) Tin Hat hut, built in 2011, which sits high on a ridge facing the Salish Sea, Vancouver Island, and the B.C. coast. You may share the sleeping loft with a few other campers, but the chanterelles you find in the forests below are yours to keep. Free; no reservations or potable water; sunshinecoast-trail.com
34. Barefoot Beach Resort, Skaha Lake, Penticton, B.C.
On Skaha Lake in British Columbia's Okanagan Valley, reserve one of 12 yurts or 50 tent sites. barefootresort.ca
35. Conrad Campground, Tagish Lake, Yukon
Located on Tagish Lake's Windy Arm in the Yukon, it's the first new campground in 30 years and has 29 sites for both tents and RVs. env.gov.yk.ca